IN BRIEF
The current dye system is being reworked for 0.8.0.
Large dye bundles will be replaced by curated dye trios.
Trios will be priced at 125, 350, and 600 platinum.
Eight dyes will be retiring for now.
You will keep all dyes you acquire before 0.8.0 (including retiring dyes).
Earn dyes from Heroics and Hunt Pass!
Fresh hues. Curated palettes. New dye sources. New trio prices. The world of dyes is about to change, and this is your guide to the bright, brilliant future.
COLOUR CURATION
Say goodbye to big, awkward bundles. We'll be stepping into OB 0.8.0 with thirteen sets of curated dye trios. These collections of three will contain dyes that work well together and speak to a theme. The Monarch, for instance, combines rich royal hues with Gilded, Tempest, and Alabaster.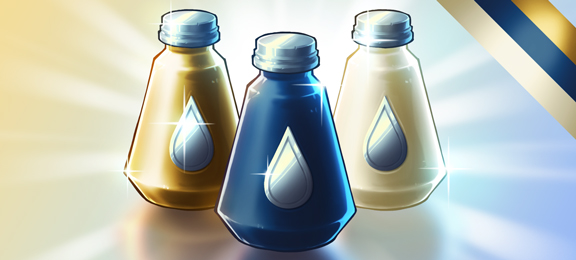 Once you own a set of dyes, you can apply them together, separately, or however you please.
NEW NAMES
To complement our curation efforts, we've renamed a number of existing dyes. (The "Gilded," "Tempest," and "Alabaster" dyes in the image above were renamed from "Gold," "Lapis," and "Cream.") These new names tie dyes to their trio themes and give them a bit of extra character. Let us know how they feel.
NEW PRICES
Dye prices will be changing to fit our new, smaller dye packs, with trios tagged at 125, 350, and 600 platinum. This is a step up from our current price structure, so be sure to stock up before 0.8.0 if you want to save on existing dyes.
OLD FAVOURITES
We also have a handful of dyes that will no longer be obtainable in 0.8.0. That means that this may be your last chance to own …
Blood Moon ("Intensity" Premium Dye Palette)
White ("Slayer's Style" Dye Palette)
Black ("Slayer's Style" Dye Palette)
Black Pearl ("Slayer's Style" Dye Palette)
Peach ("Slayer's Style" Dye Palette)
Ashen Brown (Recruit's Dyes)
Straw (Recruit's Dyes)
Dust (Recruit's Palette Completion Bundle)
See a colour above that you can't live without? Be sure to grab it before 0.8.0. Any dyes you acquire before the rework are yours to keep and use as you wish. On a related note: Many dyes will be moved to new categories in 0.8.0, so if you don't see them immediately … scroll down. They may be hiding below the fold.
LOCALLY SOURCED
Colours have long had a secret language. Green for growth. Red for danger. Purple for royalty. Gold for wealth. But what if those colours also signalled something more?
With our dye rework, we've curated a select set of dyes that can only be obtained from powerful Heroic and Heroic+ Behemoths. These rare, rich dyes have been designed to reflect the effort required to earn them. But be forewarned: They won't be easy to acquire. Work, luck, and persistence will all factor in when it comes to scoring these special colours.
DYE INJECTION
With the introduction of Heroic Behemoth dyes, we're also debuting two brand-new colours: Subzero (deep sapphire) and Sovereign (deep emerald). Style points to Slayers who can guess where they drop from.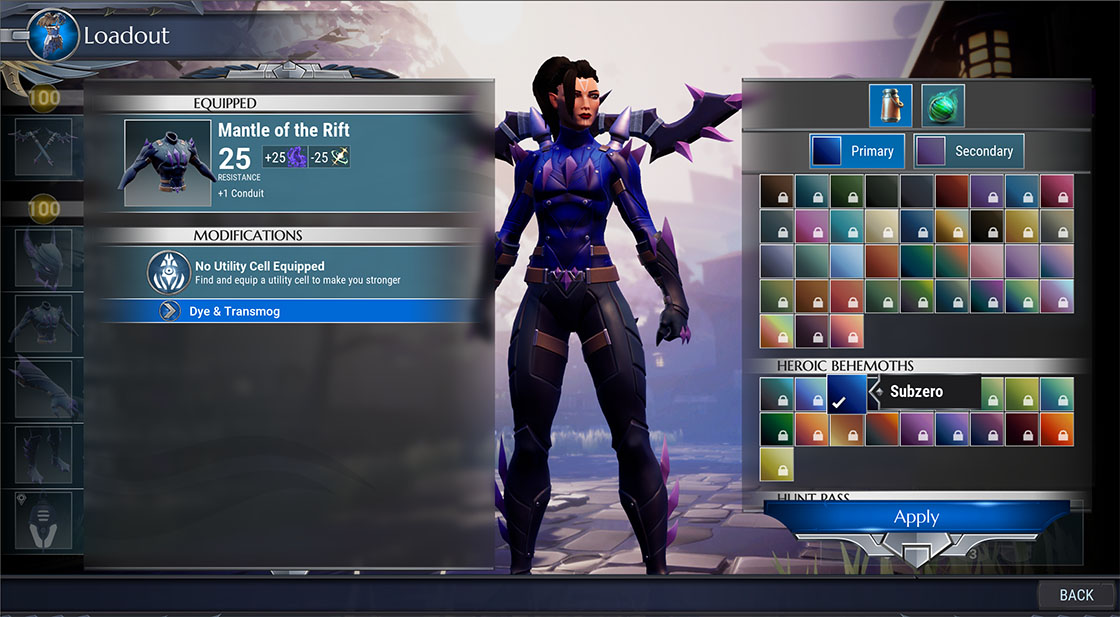 HUNT PASS HUES
Heroic Behemoths aren't the only new source of dyes. With Hunt Pass Season 5, we'll be introducing earned dyes along the Elite Track – a colourful way to mark your season participation. Up first with 0.8.0: Quicksilver and Bloodlust. (Does that count as a Hunt Pass theme spoiler?)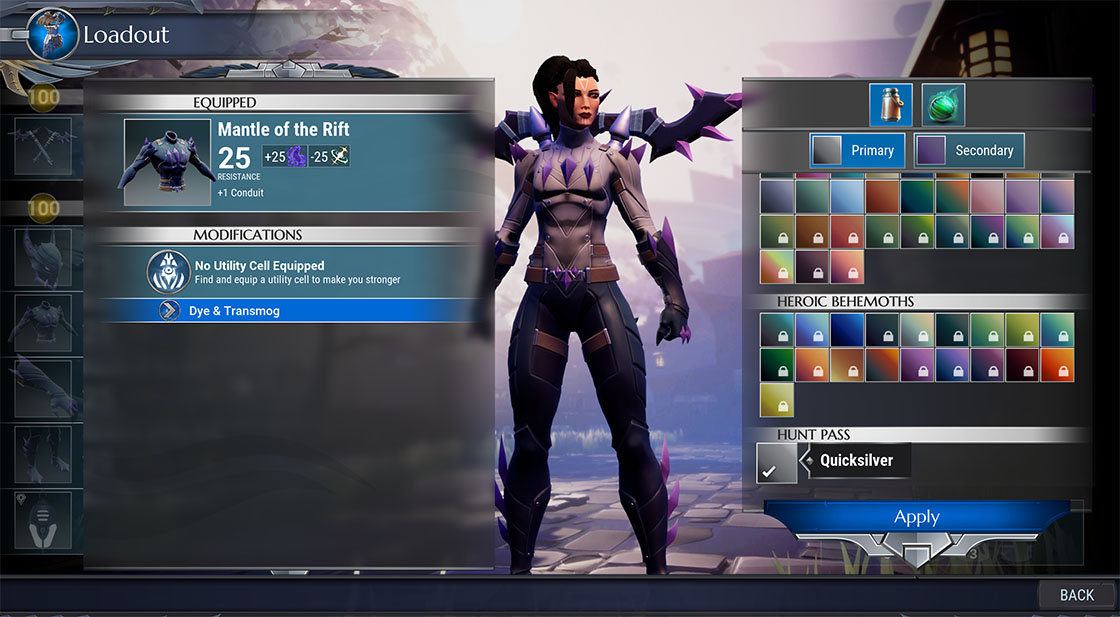 A COLOURFUL FUTURE
Between Heroic Behemoth dyes, Hunt Pass dyes, and new curated trios, there are plenty of colours to look forward to. But what do you do with this new rainbow of riches?
THIRD DYE REGION
Dye, dye, dye.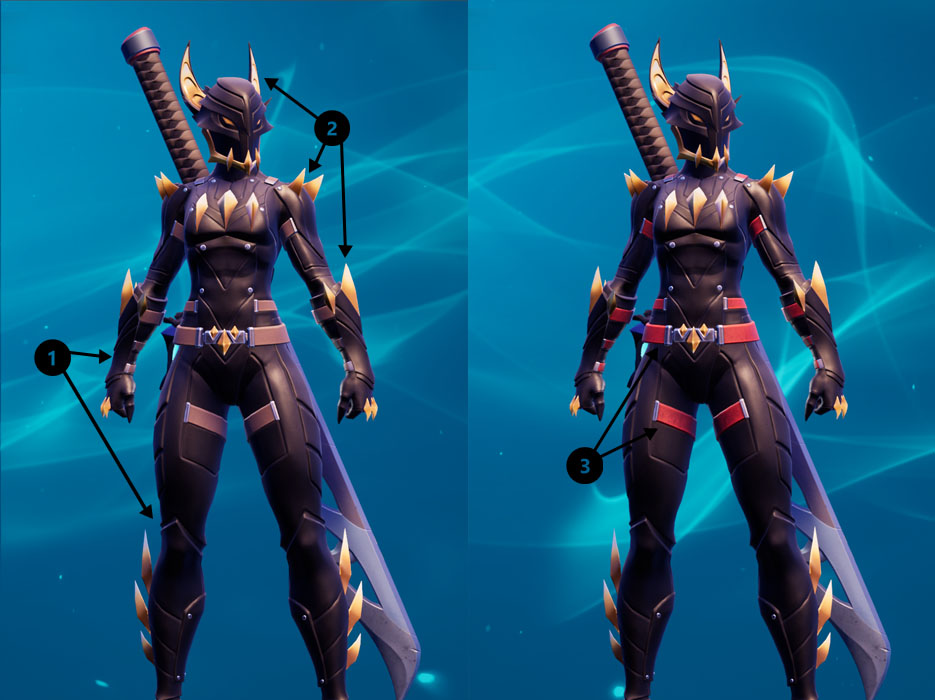 In a future patch (post-0.8.0), we'll be adding a third dye region to most Slayer armour, letting you further customize your look. This will let you apply up to three dyes to any pieces that support it. If you've ever had a stubborn brown belt throwing off your #FashionSlayer masterpiece, this update is for you.
DYE DASH
A final PSA to all Open Beta Slayers: Now is the best time to stock up on dyes. Need a classic Black in your collection? Get it before it retires in 0.8.0. Want a really great price on a whole lot of colours? Pick up the "Slayer's Style" Dye Palette and get 30 dyes for less than 15 platinum each. This is the last time that dye prices will be this low, so don't miss the window if you want to own them all. PSA: Out.