IN BRIEF
The Aetherpunk Hunt Pass arrives January 30.
Hunt Pass bonus rewards are back!
Quick Emojis deliver a new way to communicate.
Saint's Bond returns February 13.
HUNT PASS: AETHERPUNK
More than a style, less than a movement, Aetherpunk rebels against an uncertain future by borrowing from the Shattered Isles' distant past. Join the campaign on January 30 when the Aetherpunk Hunt Pass comes to Dauntless.
ON THE PASS
This Hunt Pass highlights the virtues of neon with a full set of bold-and-black aetherpunk armour. We've even included a punk rock mohawk in the form of a helm skin. Dyeable, of course.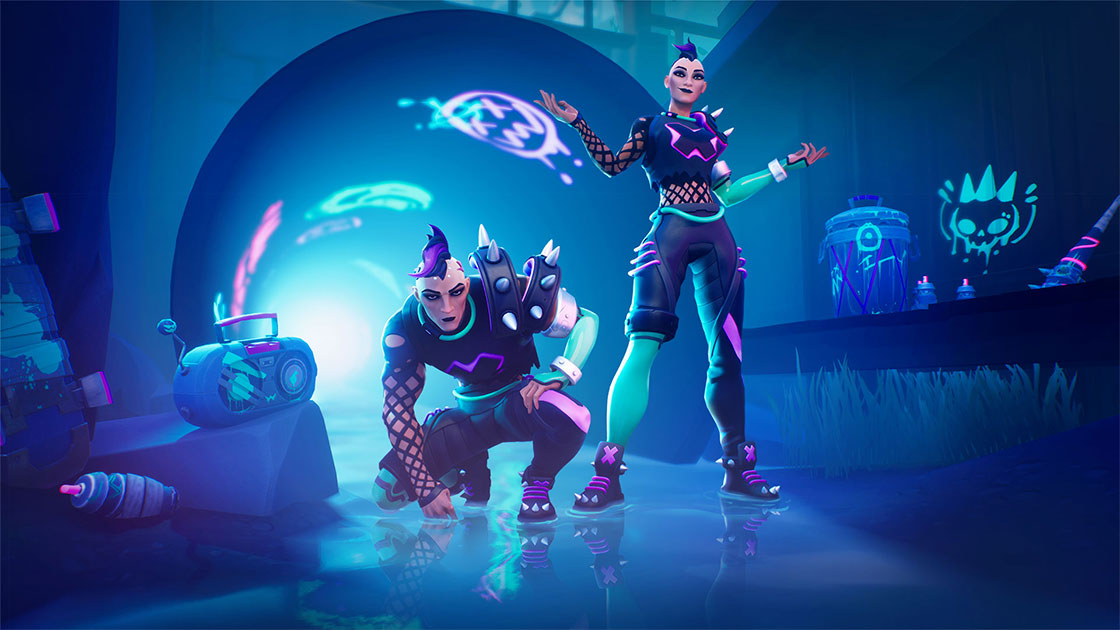 You'll probably want some new emotes to round out your rebel wear, so we've seeded this pass with plenty to choose from. Look for the Tag, You're It! spray paint emote at Elite Level 40, the Kick the Can arrival at Elite Level 45, and – as early as Elite Level 5 – the Swirling Streamers light show.
It's only a matter of time before someone in the studio reenacts this one. … Assuming they haven't already.
IN THE STORE
If you're feeling like this look could use a couple more bionic limbs, you'll be happy to know that "augmented" is an option. The Tubular Edge Bundle gets you the Tubular Psychotronica helm skin, Hexagonal Crash legs skin, and Hexa-Flex arms skin, plus the Edge of Distress hairstyle. Four items too many? You can also purchase each piece on its own for a cyborg à la carte experience.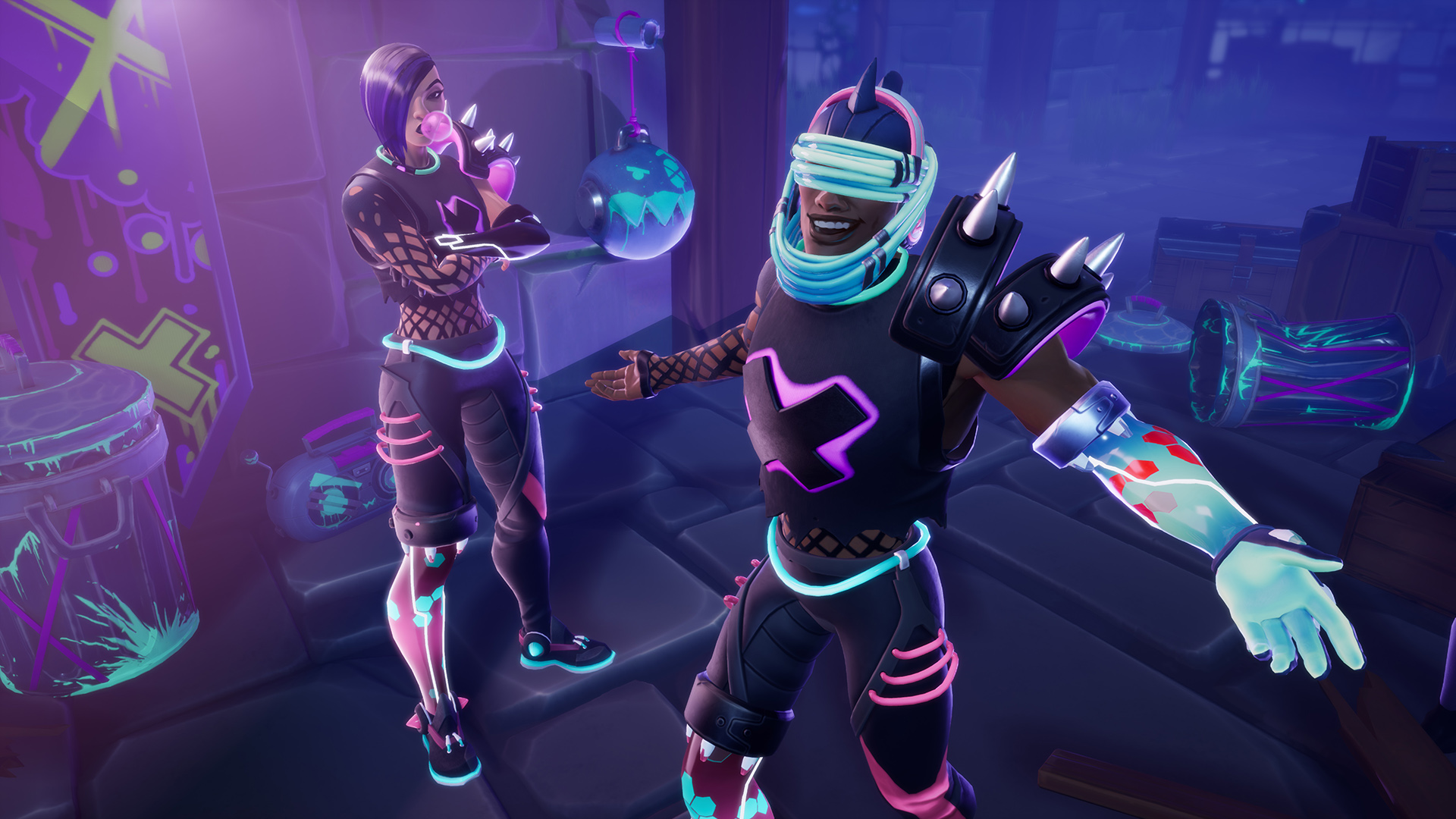 Also arriving with the Aetherpunk Hunt Pass: the critically cool Power Rider arrival.
AETHERPUNK BONUS CORES
Hunt Pass bonus rewards are back!
For the entire duration of the Aetherpunk Hunt Pass (starting January 30!), Slayers who complete Level 50 of the Aetherpunk Elite Track will be able to earn even more Hunt Pass rewards. This time, we're reaching deep into the vault to bring you rewards from the Overgrowth Hunt Pass. This includes classic Farslayer items like the Aether Motes emote, the epic Everbranch flare, and Xelya's Standard.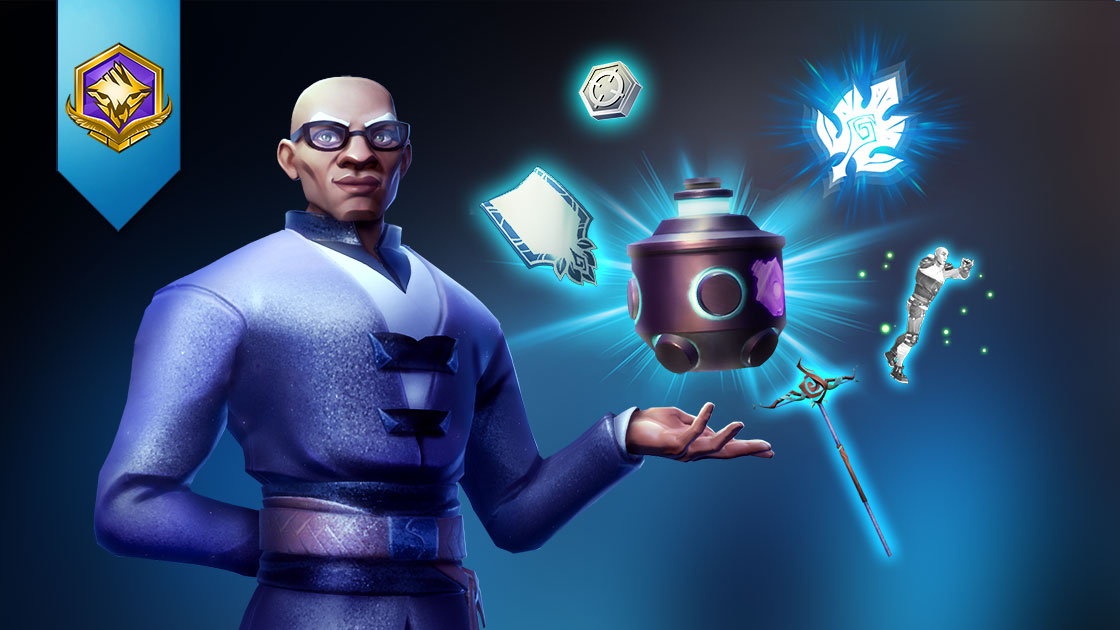 HOW TO PARTICIPATE
Once you've claimed your Level 50 rewards, walk on over to Gregario to pick up the "Treasures from the Vault" quest. Each time you complete this repeatable quest, you'll earn an Aetherpunk Bonus Core containing one random Overgrowth reward and 1-3 Premium Bounty Tokens.
There are 15 bonus rewards in all, and – just like last time – there are no repeats. Opening 15 Bonus Cores will net you all 15 prizes.
| Reward Category | Initial Drop Chance | Possible Rewards |
| --- | --- | --- |
| Emote | 1.19% | Aether Motes |
| Banner Standard | 1.19% | Xelya's Standard |
| Flare (Epic) | 2.38% | Everbranch, Spheres of Life |
| Banner Fabric | 11.9% | Verdant Song, Greenfall |
| Flare (Normal) | 23.81% | Herald of the Wild, Living Duality, Mooncaps, Carved Triptych |
| Banner Sigil | 59.52% | Herald of the Wild, Living Duality, Mooncaps, Carved Triptych, Everbranch |
SAY IT WITH EMOJIS
With Quick Chat, we made it easy to share simple phrases. Which is great! But what if the feeling you want to express defies the stodgy confines of human language? What if what you truly want … is to emoji?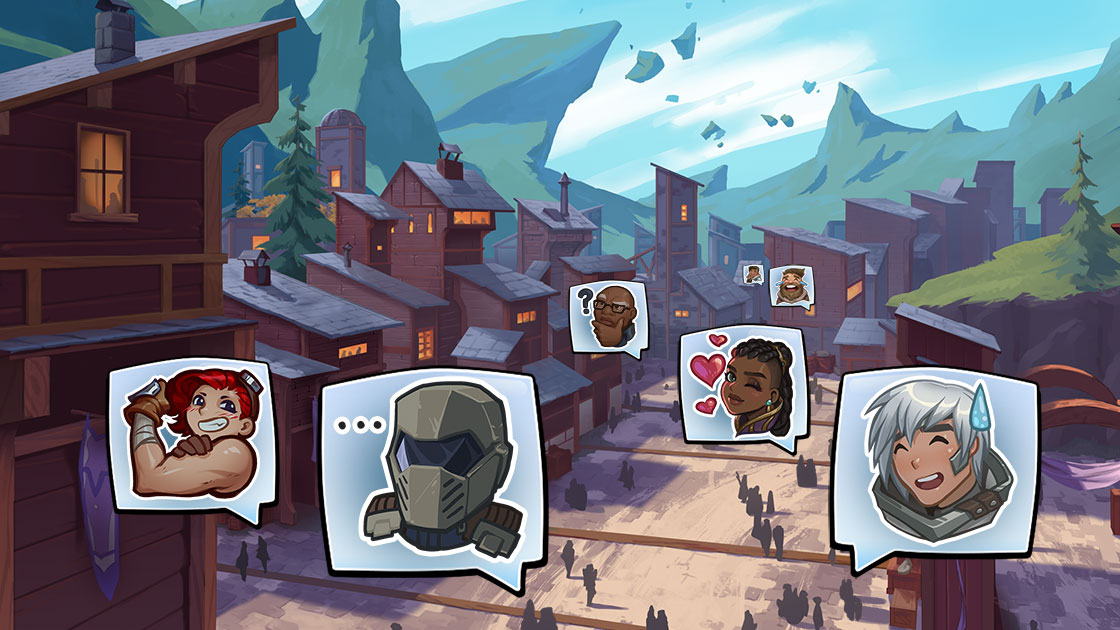 Starting in 1.1.3, you'll be able to use new Dauntless Quick Emojis to communicate with other Slayers! We're starting off with a set of seven emojis, available free on January 30, and we hope to add even more in the future.
THE WHEEL OF FEELS
If you know how to use emotes and Quick Chat, then you know how to use emojis. If not, here's how to get yourself ready to emote:
Open the Personality menu and select Quick Emojis.
Select the emoji you want to use and press the Set Slot button.
Assign your emoji to the Quick Slot you want.
Exit all menus and return to the game.
Open the communication wheel ('C' on PC, left trigger on consoles) and select Quick Emoji to see your emojis.
Select an emoji to send it to chat!
SAINT'S BOND RETURNS
Ramsgate's most romantic holiday returns to Dauntless on February 13. But this year, Saint's Bond is about more than just capital 'L' love – it's about the bonds that bring us together as friends. To celebrate, we'll be offering seven Saint's Bond contracts to complete with your friends.
Look for more details on those – and their lovely rewards – when we get closer to the holiday.