IN BRIEF
Dauntless launches on PlayStation 4, Xbox One, and the Epic Games store in April 2019.

Nintendo Switch and mobile (Android/iOS) versions will arrive soon after.

Our "One Dauntless" vision aims for cross-play across all Dauntless platforms.
THE GAME AWARDS
On Thursday, December 6, 2018, Phoenix Labs CEO Jesse Houston took the stage at The Game Awards to drop the some major Dauntless news and a brand-new Dauntless trailer.
And just in case you didn't catch that end slate …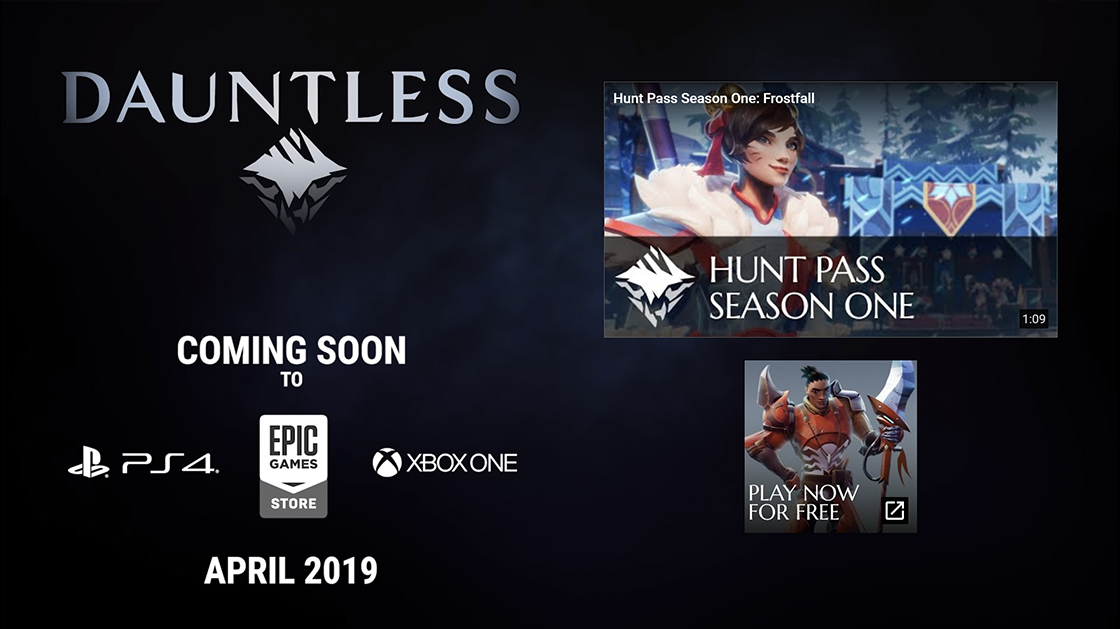 Dauntless is officially coming to PlayStation 4, Xbox One, and the Epic Games store in 2019.
ONE DAUNTLESS
Now that our secret is out, we can finally share a little more about what to expect in the months to come. While we don't have all the details yet, we will be sharing (as always) as we go forward. What we can tell you about is the "One Dauntless" vision.
"One Dauntless" is the star we're aiming for. It is a cross-platform system that will enable you to take your Dauntless account with you wherever you go, and allow you to play Dauntless with Slayers around the world regardless of their platform of choice. As we move forward, we will be looking into all of the ways we can make this happen.
CONSOLE AND BEYOND
Here's everything we can share so far about our upcoming launches.
PLAYSTATION 4 AND XBOX ONE
Console testing is already in full swing at our Vancouver and San Mateo studios. We've got test kits set up and developers making (and breaking) builds for each of the systems. Optimization has been a big focus for us in these last few patches, and we've also been working hard to make Dauntless even more gamepad-friendly. If you play with a gamepad on PC, you've probably already seen some of these improvements at work. Tell us what you think!
As we announced at The Game Awards, we will be coming to both PlayStation 4 and Xbox One in April 2019. Dauntless will be free to play on both.
EPIC GAMES STORE
Dauntless will also be launching in April 2019 on the Epic Games store – a new game distribution platform from the makers of Fortnite. We're super excited to join Ashen, Hades, and other amazing games in this brand-new space, and we hope that you'll love it just as much as we do. We'll do a deeper dive into Epic accounts and details in the near future.
Read more about the Epic Games store (available now!) at https://www.epicgames.com/store/en-US/news/the-epic-games-store-is-now-live.
NINTENDO SWITCH AND MOBILE
Nintendo Switch, iOS, and Android will come later. We don't have any details to share at the moment, but we'll be sure to let you know as soon as we do. For now, our focus is on making sure that our Epic, PlayStation, and Xbox launches go smoothly.
WATCH THE ANNOUNCEMENT
For those who missed the live event but still want to watch our Game Awards announcement, here's the clip.
You can also watch the full, official VOD at https://www.youtube.com/watch?v=SHt3FyE-VIQ.