Slayers and the other people of Ramsgate huddled at the end of the dock, watching the aether storm roll slowly toward Arkhan and his experiment. They hollered warnings to the old man, trying to talk reason into the kite-toting madman.

Their yells and protests were swallowed by the storm, like dull static compared the pealing cracks of Aether forking through the skies ahead of Arkhan. He fed out cording from the reel, sending his kite higher and higher, up and into black clouds swirling with menacing ribbons of aether.

Every hair, from the soft wisps on his knuckles to the short bristles on his ears, stood at attention as current began to flow past and through him. The lanterns, batteries, and capacitors he had strewn around him glowed and pulsed. Some flickered, others seemed to be exploding with light – more than a few dying in showers of sparks.

From their vantage, the townspeople could only see the light show; Strange lights and loud clapping cracks of power. The maelstrom roared past them, and out of the cloudy haze strode Arkhan.

In his hands was a single lantern, glowing an even, bright, pleasant colour. "These filaments are definitely an improvement. Should last three or four times longer," the old man smiled, "Let's get around to making… 200 or so more just like it, eh?"

The old man placed the lantern in the hands of a stunned smith, clapped him on his shoulder, and shuffled past the gathered crowd, back toward his workshop.

"Lovely day for it. Just lovely."
---
Four days, 5,000 miles, 10,000 new Slayers, and three amazing cosplayers later – Phoenix Labs has once again stopped the Behemoth onslaught from overwhelming Boston. We love spending time in Los Angeles for E3, and we can't wait to make our way to a European show. But there's just something special about PAX – a show by fans and for fans. It's a sentiment that we identify with as part of our core philosophy as game designers.
We're setting course Tampa Bay for GuardianCon, Seattle for PAX West, and Kodiak Alaska (as Pitbull did before us). But, before we refuel and embark on our next journey, let's savour the memories of our time at PAX East!
Cosplayers
You may have seen the amazing Emberblades in the back of our Developer Update video. We received these blazingly badass creations from a wonderful community member at PAX South. Seeing our game brought to life in the real world through the passion of a community member is truly special.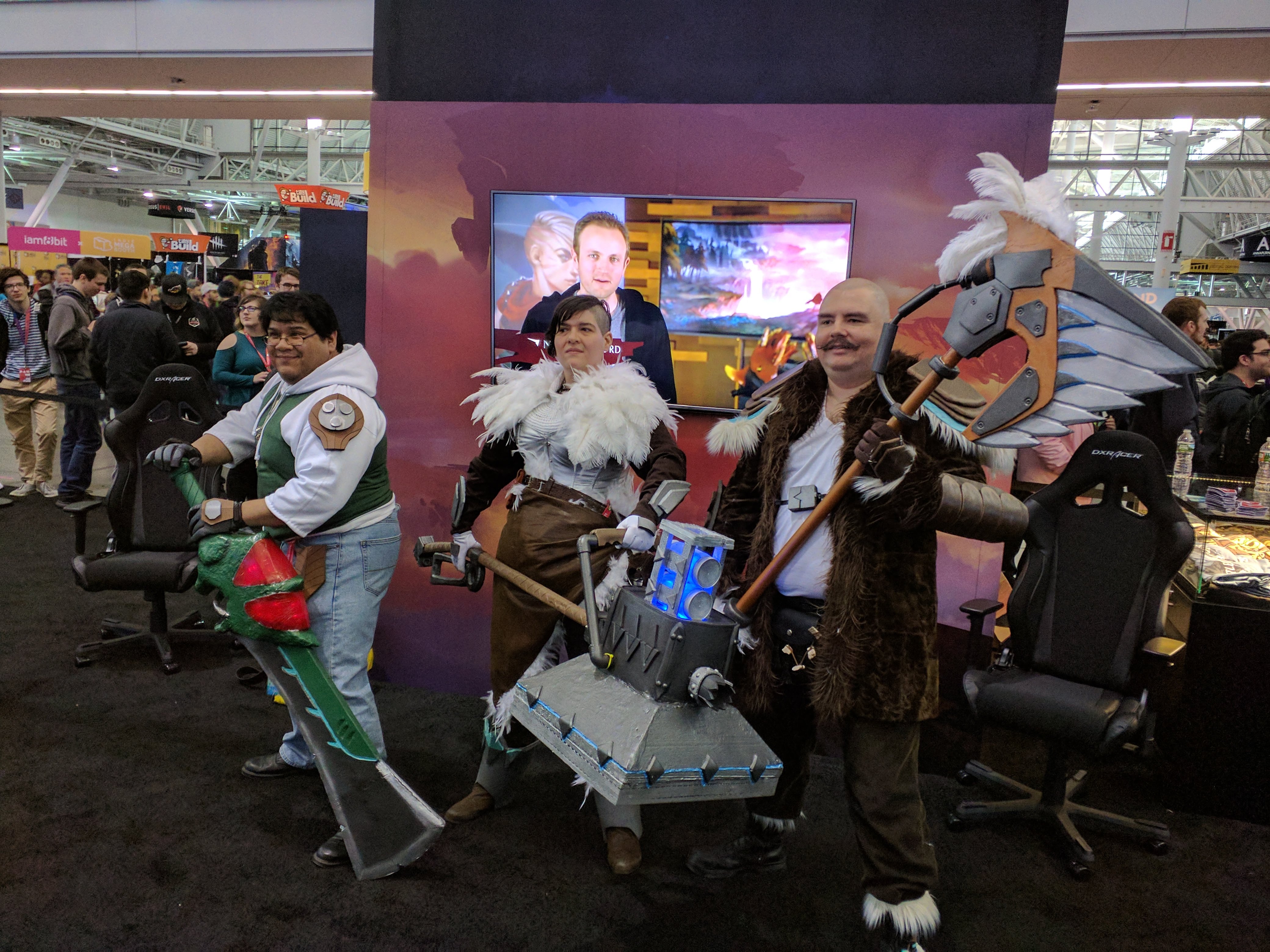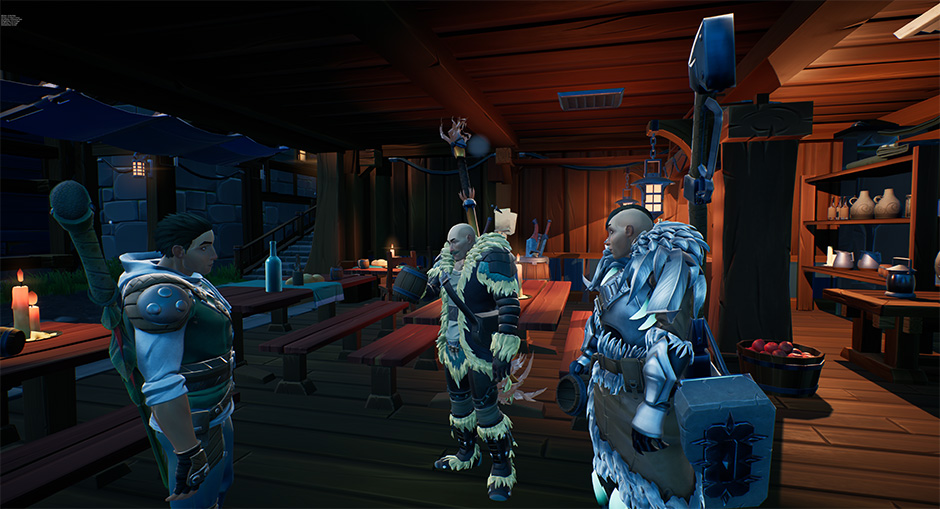 So, when we saw not one, not two, but three Slayers in full gear – it was the highlight of our time at PAX East. It's a major milestone for Dauntless and the community. To commemorate this amazing memory, we're adding all three of these Slayers to Dauntless as NPCs in the Broken Blade tavern. Be sure to swing by and say hi!
Phoenicians Phoenuxes Lobsters Phoenixes Over Boston
It is a truly inspiring privilege to be among so many passionate, inspiring Slayers. Over the course of the convention, we met gamers from around the world who shared their impressions and feedback with our team. We're always listening wherever players are sharing their ideas, but face-to-face feedback is a truly precious commodity.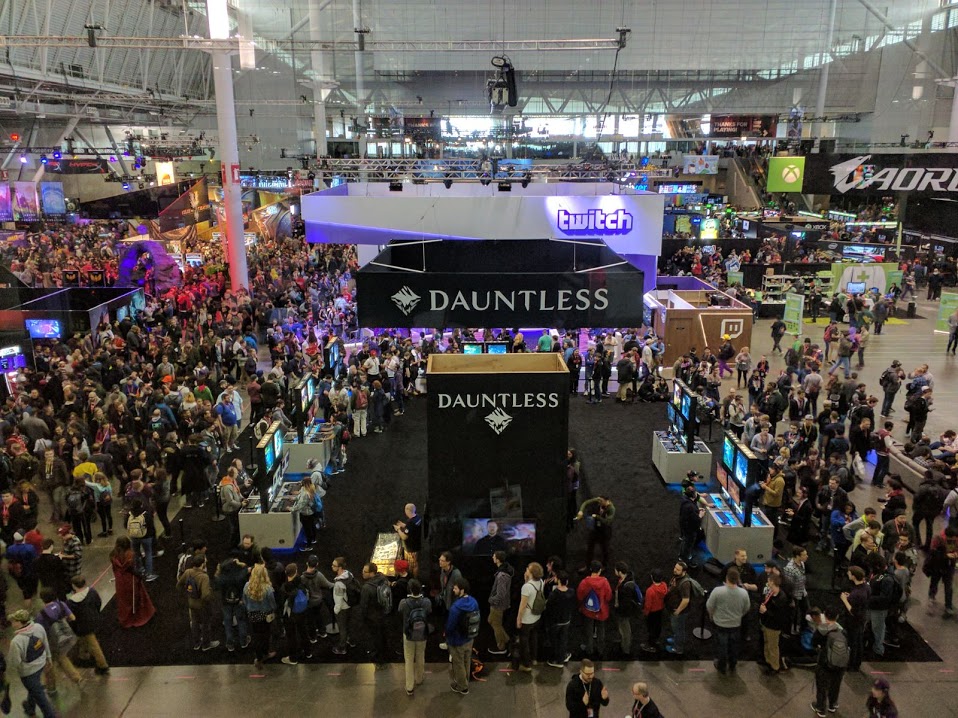 We had Dauntless tech artists, world artists, community engineers, marketing wizards, PR raid bosses, platform(er) engineers, and a QA blacksmith on hand to answer questions and share ideas. The wealth of information we brought with us back to the studio is being put to good use.
SLYR 7 at 5 - NEWS AND WEATHER
It's a privilege and pleasure to represent the Dauntless community at shows like PAX. We're always excited to share stories and the passion that Slayers bring to the world of gaming.
Here are a few of our favorite interviews from the show floor.
KNITTED FROM THE FINEST RAMSWOOL
You asked, we delivered! Ramsgate hoodies made their debut at PAX East. Soft, good looking, and ready to rep Dauntless. If you didn't have a chance to get yours at Boston, you can get them from the Dauntless merch store soon!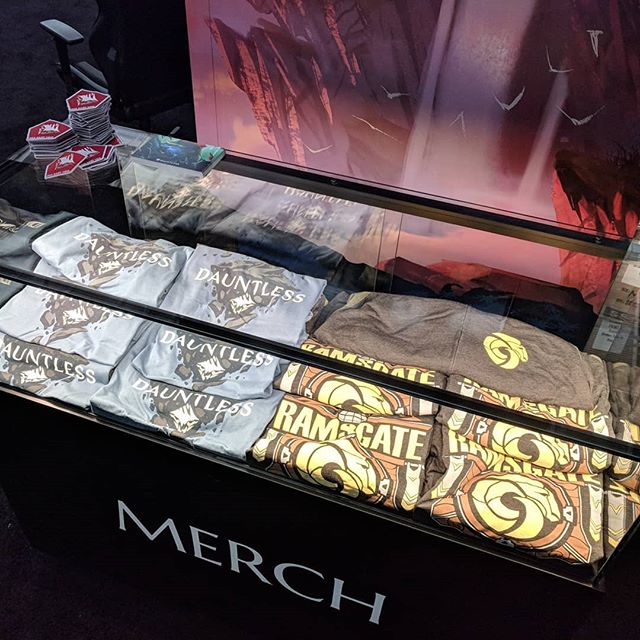 SEE YOU THEN
The Phoenix Labs airship is stocking up to continue bringing Dauntless to an event near you. Every Slayer we meet is a source of inspiration, and we can't thank you enough!
---