In Brief
Slayer Links launch Thursday, September 3.
Slayer Links let you and a friend earn rewards by hunting together.
You can have up to 3 Slayer Links active at any given time.
Each Slayer Link lasts 7 days and features a unique rewards pool.
Earn the rare "Crown of Friendship" head accessory exclusively through Slayer Links.
Looking for the right opportunity to call on a worthy ally for some good old-fashioned Behemoth slaying?
We have exciting news: Slaying together just got more rewarding.
Launching September 3, Slayer Links are a new social feature in Dauntless that reward you for earning Hunt Pass XP with friends. By using Slayer Links, Hunt Pass XP now counts toward Hunt Pass rewards and Slayer Links rewards.
Each link you forge lasts seven days. Work with your Linked Slayer to level it up as much as you can before time runs out! At the end of seven days, you both claim any rewards you earned.
In two days it's time to grab your friends, forge some links, party up, and start earning rewards together.
Forging A Link
You can forge a link with any Slayer on your Dauntless friends list. To see a list of available Slayers, follow these steps:
Navigate to the Social menu.
Open Slayer Links.
Highlight an available link and select Invite To Link.
Pick a Slayer friend and select Add As Linked Slayer.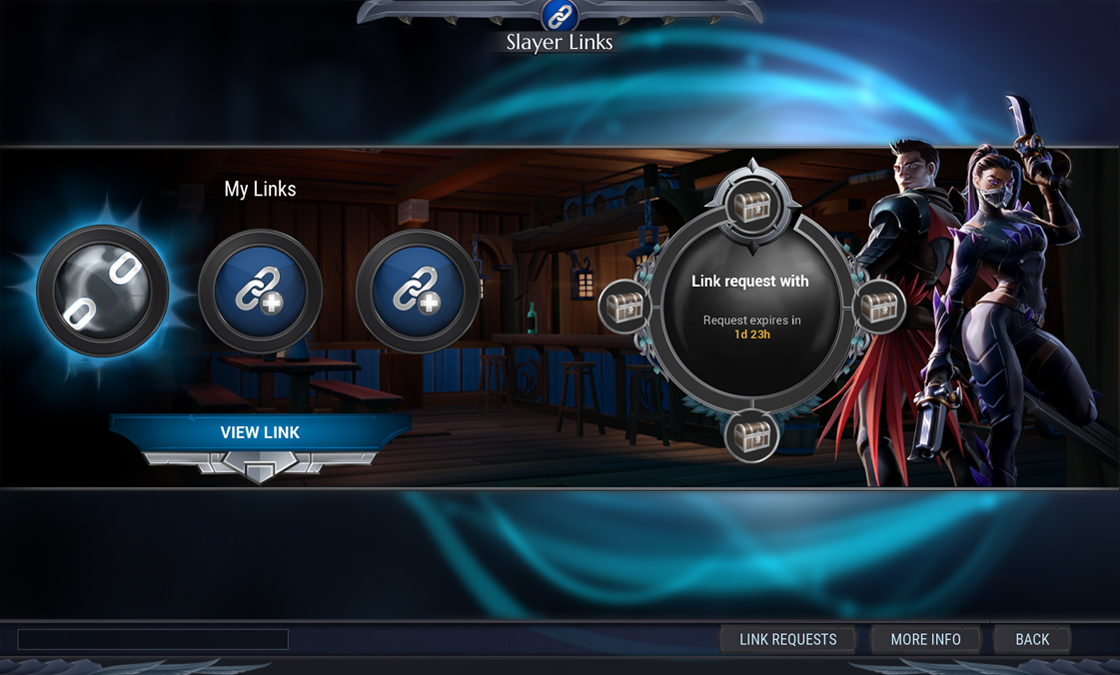 You can also manage your Slayer Links in the Social Panel by selecting the My Links tab.
Charge Up Your Links
Once you've forged a link, it's time to earn some Hunt Pass XP together.
Each link has the potential to unlock up to four rewards, represented in the Slayer Links menu as gold chests. You have 7 days to fully charge your Slayer Link and earn as many rewards as you can before your link unlocks. More info on the rewards pool can be found below.
An important note: You must be in a party with your Linked Slayer in order for earned Hunt Pass XP to count toward your link progress.
You can highlight a Slayer Link to view its progress ring on the right side of the menu. Invite a Linked Slayer to your party from the Slayer Links menu by hovering over their link, press View Link, and tapping Invite To Party.
Pro-tip: Strategize with your Linked Slayers when drafting bounty cards so you can reach your reward goals as quickly and efficiently as possible!
Slayer Links Rewards Pool
Each rewards pool is unique to you and the Slayer you're linked with, so you never know what you might find each time you forge a new link! From elemental orbs and arcstones to Vault coins and patrol chests, there's always something valuable just a forged link away. And since you can have up to three links active at a time, you can earn from three unique rewards pools at a time.
Once you've earned the first reward from any Slayer Link, you can view the Rewards Pool by highlighting the individual Slayer Link. At the end of seven days, your Slayer Link will unlock, revealing all of the rewards you've earned.
Crown Yourself
There's one special item that is exclusive to Slayer Links rewards — the ultra rare "Crown of Friendship" head accessory!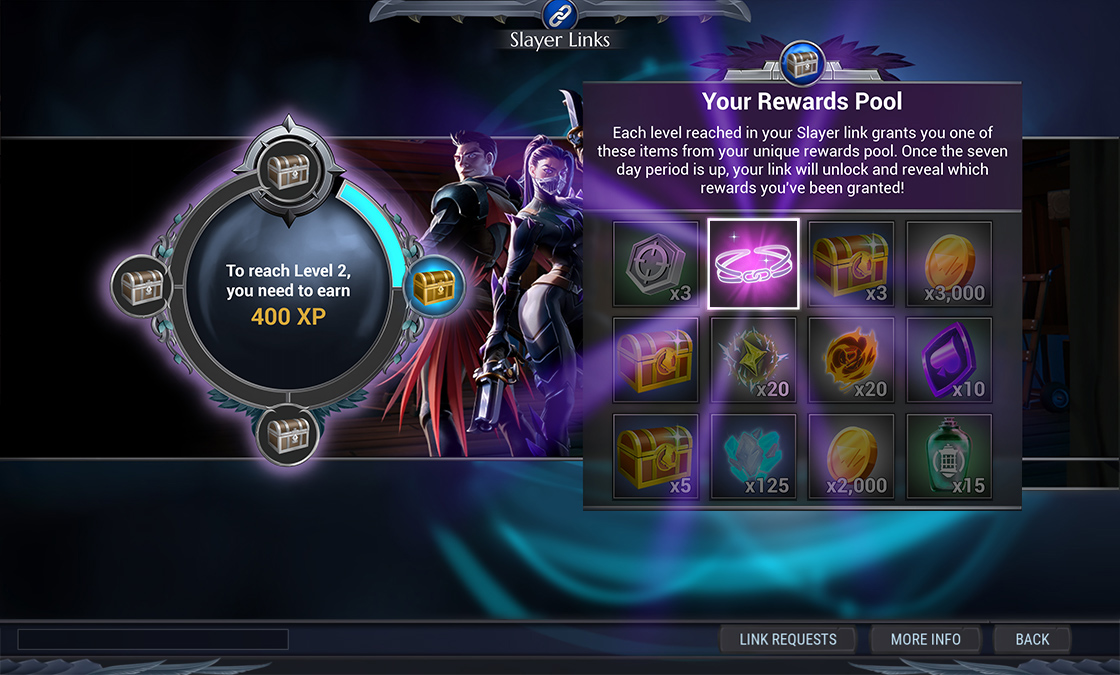 We hope you get a chance to check out Slayer Links when the feature launches on September 3 as part of our 1.3.6 update.
Patch notes 1.3.6 - Farslayer's Fall
Let us know what you think, and clear skies, Slayer.
Slayer Links FAQ
Q: Who can I forge a Slayer Link with?
A: You can forge a link with anyone in your Dauntless friends list.
Q: When does the seven day countdown start?
A: The countdown begins once the Slayer Link is forged. This can either mean that your request was accepted, or you accepted another player's request.
Q: Can I cancel a Slayer Link?
A: You can cancel a link as long as you haven't earned Hunt Pass XP on your Slayer Link. Once you've partied and earned Hunt Pass XP together, your link is forged and will not break for seven days.
Q: How can I earn the "Crown of Friendship" head accessory?
A: This is a rare reward that has a small chance to show up in your Slayer Links rewards pool. Don't be discouraged if it doesn't appear the first time you forge a link!