In Brief
Springtide runs from April 6 to 20.
Embark on a series of quests to unlock a new set of strikers.
The Pufflehop Rescue Mission returns with quests and rewards.
Hop into the Springtime Eggventures quest to earn a crown and a brand-new title.
Redeem carrot chips for Springtide rewards in Ozz's event shop.
Pick out new Spring-themed gear and bundles at the store.
As the weather warms up, adorable cotton-tailed pufflehops are making their way back to the Shattered Isles. Embrace the season's golden moments this year with exclusive Springtide rewards, a brand-new weapon event, and dazzling new Springtide gear!
Lady Luck's Treasured Strikers
Lady Luck peered closely at the tattered bits of parchment in her hands. As she scrutinized the drawings with her single good eye, it became apparent to her that what she held in her hands was a treasure map of sorts.

The notorious corsair queen had recently led her crew through several victorious battles at sea, pillaging any ship that had the misfortune of crossing paths with the Fortunate Soul.

There appeared to be nothing of value on board the Rusty Ore, but a hasty search of the weathered old ship turned up mysterious bits of parchment in a locked box. Put together, this map must lead to something important …
Visit Lady Luck in Ramsgate to accept her quest. After putting together and deciphering the four treasure maps, embark on a series of new quests to craft The Golden Claws, a pair of strikers forged from rare and exquisite gold.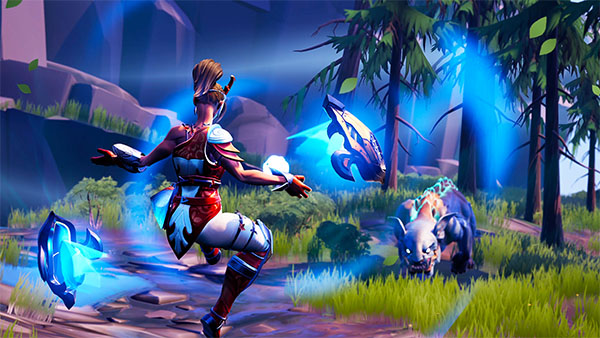 Once you have crafted the strikers, complete special time-limited quests to level them up from level one to ten. Finally, reforge this weapon to unleash its ultimate power!
The Golden Claws are yours to keep even after Springtide ends, but the weapon can only be crafted and enhanced during Springtide.
Protect the Pufflehops
The lovable pufflehops are once again in need of your help! Earn the seasonal currency of carrot chips as you gather eggs, fend off hungry styxians, and herd these cuties to safety in a limited-time mission.
The Pufflehop Rescue Mission is a matchmade event hunt.
To participate in the Pufflehop Rescue Mission, choose Hunt > Event > Pufflehop Rescue from the Hunt menu.
To get started on the Pufflehop Rescue quest, visit Markus Boehr in Ramsgate. This quest is available to you only if you have completed Slayer Path Node II.
You can participate in the Pufflehop Rescue Mission as many times as you want, but you can complete the Pufflehop Rescue quest only once.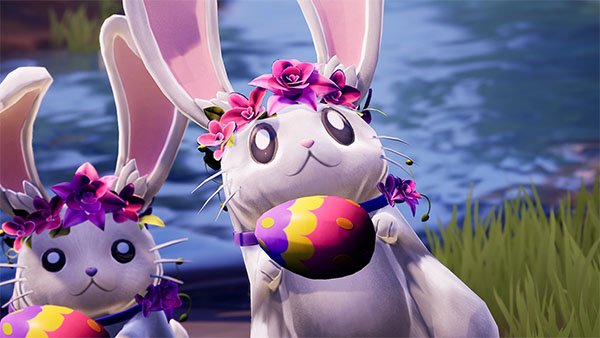 Carrot Chips
Here are the ways you can earn carrot chips during Springtide:
Complete the Pufflehop Rescue Mission.
Complete the Pufflehop Rescue quest.
Break a Behemoth part – 5 break parts max per Behemoth.
Once you have completed the Pufflehop Rescue quest, equip any of the following special Springtide helm skins to double your carrot chip earning capability during Springtide:
Puffletoppers helm skin (2020)
Ruffletoppers helm skin (2021)
Fluffletoppers helm skin (2022)
All Springtide helm skins are currently available in the platinum store.
Egg-citing Endeavors
What is Springtide without its iconic eggs? After completing the Pufflehop Rescue quest, seek out barkeep Tressa Froller at the bar in Ramsgate to start the Springtime Eggventures quest. Complete this quest to earn an egg-citing crown and a brand-new title!
Fresh and Fabulous Fashion
Find a refreshing selection of vintage Springtide cosmetics alongside fresh new finds in both Ozz's event store and the platinum store.
This year, get a jumpstart on festivities with the new Springtide Starter Kit. This kit contains the Spark of Genius lantern skin (with VFX trail) and 300 carrot chips.
Embrace the blossoming flora of the season with the enchanting new Rites of Spring Bundle. With a full living armour set that beautifully entwines itself around its wearer and 5,400 Platinum, you will slay in more ways than one this season!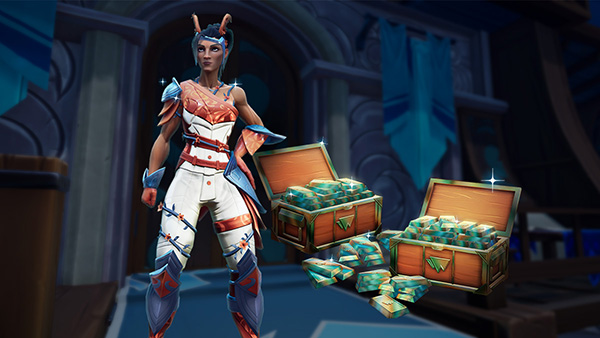 Rumours to unlock the Pufflecroppers (chain blades) and Pufflepoppers (repeaters) skins are now available at Honest Ozz's shop.
Event Dates
The Springtide event runs from 10 a.m. PT on April 6 to 10 a.m. PT on April 20.
Be sure to complete the seasonal activities, level up your new strikers, and redeem your carrot chips at Ozz's shop before the event ends.
Happy Springtide, Slayer!