Slayers, thank you for being a part of the Dauntless community. Radiant Escalation, Alyra, the Lightbound variants, and Fenroar have made this an exciting summer. We can't wait to show you everything we have in store for you this winter!
Community-Concepted Behemoth
The best part of Dauntless has always been you, Slayers. Your feedback, energy, and encouragement are what's making the Shattered Isles such an amazing place.
Back in April, many of you joined concept artist Julio and sound designer Derek for a Behemoth Concept community live stream. With the creative ideas and feedback pouring in from Slayers worldwide, Julio created a brand new Behemoth concept live on stream.
This creature, Codename Crudge, is now the inspiration for our next Behemoth!
Most Behemoths take longer than an hour or two to get right, so Julio has been working with the Encounters team to make adjustments to the concept. While the Codename Crudge you see in-game next season will look slightly different and have a different name, it will always be a special creation because of its origins and connection to you, our Dauntless community.
As we were making tweaks to align this Behemoth with the world of Dauntless, we placed more careful thought into its behaviour and the kind of attacks it will have. Here is an early teaser: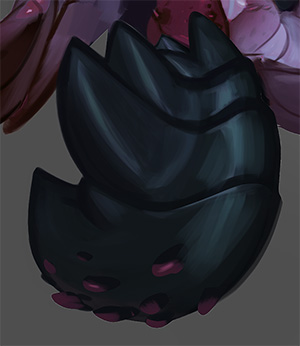 An Invitation to Collaborate
Creating Codename Crudge together was so much fun, so we're looking for more ways to bring you closer to our development process.
Join us in the Dauntless Discord on September 13 to chat with our Behemoth team about Codename Crudge and how this Behemoth might behave in-game. The team is cooking up some exciting ideas for this brand new Behemoth type, but since we started this process together, let's keep it going together! More details to come.
Our next big in-game environment may be somewhat familiar to veteran Slayers, or the most perceptive lore seekers. As we get closer to the final design, we'll share some sneak peeks in another live stream.
As we've stated in April's State of Dauntless post – this year is all about building Dauntless together.
More Dauntless Partners
This year, we're ramping up efforts on our Partner program. Since its inception, the Dauntless Partner Program has welcomed many talented content creators who love sharing their passion for Dauntless with the community. As the game grows and some Partners explore new avenues, we want to make sure there's always a group of creators who are excited about engaging with and creating amazing content for our community.
We recently welcomed a few new friends, including our first-ever Japanese and French Partners! You can find all of our Dauntless Partners here.
A Brand New Game Mode
The next big feature we want to build together is a brand new game mode. Our design team is hard at work laying the foundation and thinking through the experience we want to create. After the first round of feedback from the community, we're exploring some new ideas to make sure we can deliver a whole new way to play Dauntless that feels distinct, rewarding, and exciting.
Slayers will return to a place – once thought to be lost for good – to face challenges of endless and increasing difficulty. You will have to work together and use resources in the environment to find your way through.
This game mode is all about collaboration, so one way it will stand out from other game modes is its connection to guilds. So far, guilds haven't had much use beyond helping you stay connected with your friends. With the introduction of this new game mode, we intend to bring guilds to the forefront with a new challenge every season.
Event Season
We're busy planning Dark Harvest and Frostfall events for later this year. Each event will bring back some of your favourite features from past iterations, as well as add new activities that will get you into the seasonal spirit!
We've also been working with our Partners and testers to cook up some other minor events, like the Bounty Bonus Weekends you may have seen before. Each of these minor events will be linked to a character in Ramsgate, offer bonus progression, and a temporary repeatable quest.
For example, during the Bosun's Bounty event, you will get a bounty token whenever you spend one. Plus, you can complete the Bosun's repeatable Escalation quest to earn more bounty tokens. Kat's Weapon Training event will give you double weapon XP and a repeatable Behemoth slaying quest to earn combat merits.
We're planning to start with five of these minor events and will put them into regular rotation. A final schedule and complete details will come in the next month or so, so stay tuned!
As always, feel free to drop us your questions on Twitter, Reddit, and Discord — the team is always happy to chat!
Clear skies, Slayers.