In Brief
Dark Harvest begins October 13 and ends November 3.
Seek out Unseen Gifts hidden in new spots all over Ramsgate.
Earn useful rewards via a series of new Unseen quests.
Obtain popular limited-time Dark Harvest goods from the store.
Win exclusive Dark Harvest prizes through community events.
As the city lights start to flicker and a chilling aridity sweeps across the Shattered Isles, the city of Ramsgate is once again thrust into a period of perpetual darkness. Each year, the cult known as The Unseen grows increasingly restless from hiding in the shadows. This Dark Harvest, the emboldened cultists are finding new ways to expand their influence in the Shattered Isles.
The Nightmare Returns
To this day, Belynda Aeyr still gets shivers down her spine whenever she recalls her brush with The Unseen that fateful night three years ago. Dark Harvest has never been an easy time for the petite bartender, yet she persisted in taking on extra late shifts at the Broken Blade during this busy season. It was no secret that Belynda needed the extra rams to make ends meet.

Tonight, as she cautiously stepped out of the tavern after closing up, she noticed a hooded figure moving surreptitiously in the shadows. Quickening her pace and pulling her cloak closer around her body, Belynda ducked behind a wall and peeked out…

The hooded figure was hunched over behind Granny Strega's stall. What could it possibly be doing there?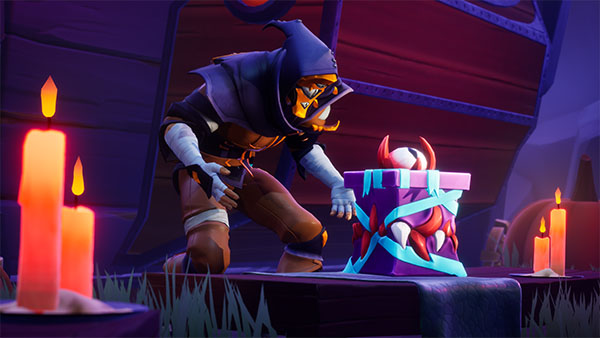 In a bid to amp up recruitment of new cult members, the Unseen have been hiding gifts in six new locations around Ramsgate this year. Find these gifts and complete the rumours to be rewarded with unique Unseen cosmetics. For hints, look out for cryptic clues from the cult on Twitter.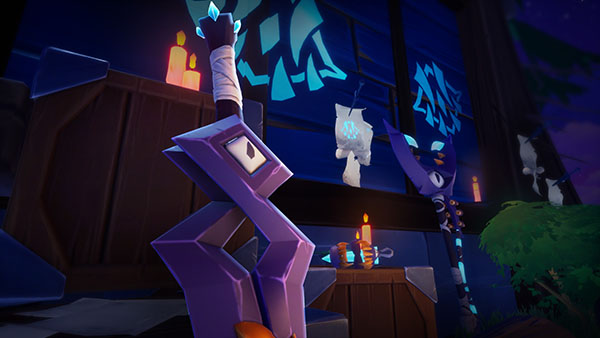 Diabolical cult members have also erected a makeshift ritual area in a dark corner of the city, where mysterious notes and various Unseen paraphernalia can be found. Complete the new quests and rumours outlined on the notes to unlock a variety of limited-time Unseen cosmetics and a free Unseen Neophyte event pass that grants you the full set of Bloodshot armour skins on completion.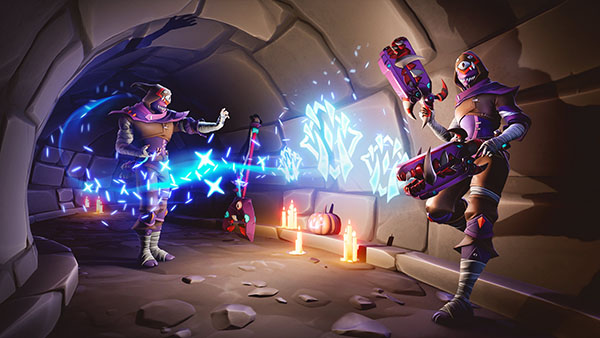 Harvest coins
Harvest coins are a limited-time currency you can earn and redeem during Dark Harvest.
This year, Honest Ozz is offering a wide variety of exciting curiosities, cosmetics, and valuable resources! That's right, you can now redeem your Harvest coins for bundles of rams, patrol keys, combat merits, bounty tokens, aethersparks, or tonics.
Here's how you can get a chance to earn Harvest coins during Dark Harvest:
Complete event quests.
Break parts on any Behemoth. (Umbral Behemoths will drop more.)
Destroy Shrowd effigies in the Hunting Grounds.
Complete the Unseen Summons event missions.
Also new this year, earn a new title when you satisfy a secret condition during the Unseen Summons mission (Nevermore difficulty), which now features the Bloodshot Shrowd.
Frightening Fashion
Get in the mood for Dark Harvest festivities by loading up on spine-chilling gear cosmetics, curiosities, and other items from the store. Grab a Dark Harvest Starter Kit to kick off your spooky celebrations this year! This kit contains the Oculus Umbra Lantern skin and 300 Harvest coins. Be sure to check out other favourites like the Xylobones emote, the Harvester's Head helm skin, the Catspaws Strikers skin, and more!
Back by popular demand, we've reintroduced the original Unseen armour set in a brand-new bundle, the Unseen Armour Bundle. This new bundle contains the full Unseen armour set, plus 2,300 platinum for you to treat yourself to more spooky swag.
These special Dark Harvest items will only be available until November 3, so get them before it's too late!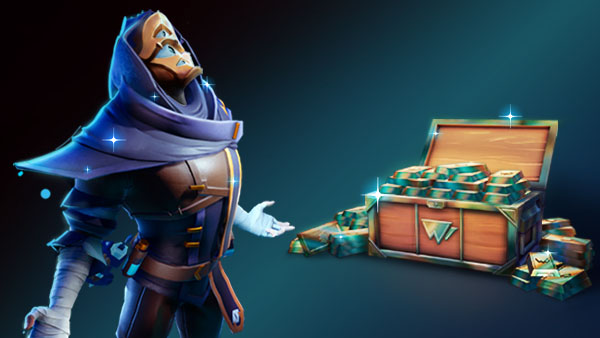 Community Cosplay Contest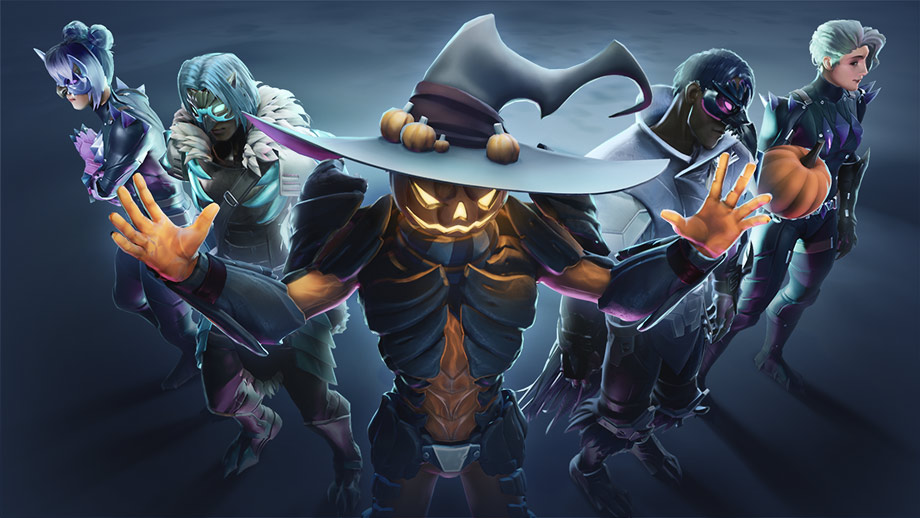 This year, we're bringing back our highly-anticipated Dark Harvest Cosplay Contest! Dress up as your favourite Dauntless character (Slayer, NPC, Behemoth, or any other creature) and submit your photo by November 1 (10 a.m. PT) on Facebook, Twitter, Instagram, or Reddit with the hashtag #DauntlessCosplay.
Three winners will each win a Dark Harvest Prize Pack containing $100+ in prizes, including Dark Harvest-themed cosmetics and 5,000 platinum.
Winners will be chosen based on:
Quality of the costume.
Creativity.
Accuracy to in-game character.
Submissions must include:
A photo of you in your cosplay costume.
A screenshot of the Dauntless character you are cosplaying.
This contest is not sponsored, endorsed or administered by, or associated with Facebook/Twitter/Instagram/Reddit.
Terms and Conditions
Eligibility
Participants under the age of 18 are required to seek permission from their parents or legal guardian prior to their submission.
Submissions
Participants are to ensure that their submissions are original and shall not contain any obscene, blasphemous, libellous, offensive, pornographic or otherwise unlawful or inappropriate material or activity, including but not limited to references to trade marks, logos or branding of any names, products or services of a third party. Submissions should not use any copyrighted music, video or images. In particular, the entries must not infringe any other person's intellectual property rights.
Licence
Each participant understands and agrees that by submitting his/her submission, he or she grants a royalty-free, perpetual, irrevocable, worldwide and non-exclusive licence to Phoenix Labs Canada ULC and its affiliates to reproduce, publish, publicly perform, communicate to the public, adapt, and use the contents of the submission in any way whatsoever, whether in whole or in part, in connection with the game "Dauntless", and each participant waives their right to any credit.