In Brief
Frostfall begins December 15, 2022 and ends January 5, 2023.
Embark on a series of new quests to unlock the Silver Sword.
Discover Frostfall gifts hidden across the Shattered Isles.
Build snow forts and enjoy snowball fights with friends.
Pick up Frostfall-themed goods to get into the spirit of the season.
Celebrate Strength
In a year rife with new challenges, evolving Behemoths, and endless battles, the Slayers of the Shattered Isles have managed to persevere against the ongoing Behemoth threat.
This Frostfall, celebrate strength by forging a sword that can only be crafted and enhanced during the season.
Take part in beloved Frostfall traditions and gear up for the season with exciting festive activities and fabulous winter-themed cosmetics.
The Silver Sword Saga
Legend has it that Linnea Silver is a direct descendent of the mythical Frostfall Queen, Silver Nikola. Help Linnea connect with her roots and step into her role as leader and protector of Vylmark by embarking on a series of new quests – to craft Silver Nikola's Silver Sword, a sword made from pure frozen silver.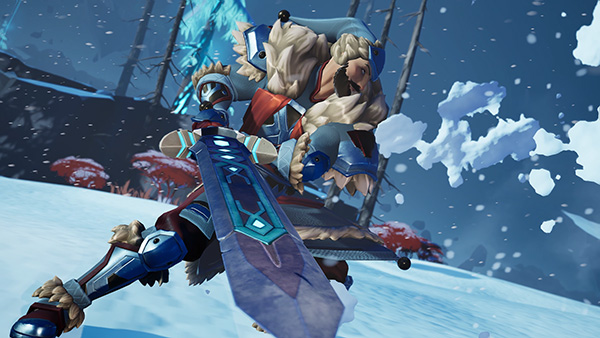 Once you have crafted the sword, complete special time-limited quests to level it up from level one to ten. Finally, reforge it to unleash its ultimate power!
At level 1, the Silver Sword's stats are:
10 Power | +1 Guardian | 1 Defense Cell Slot | +10% Shields Gained
At max level, the Silver Sword's stats are:
120 power | +3 Guardian, +3 Warmth | 1 Defense Cell Slot, 1 Strength Cell Slot | Mod Slot | Special Slot | +50% Shields Gained | +100 Maximum Health | +10% Healing Power | Using your special continually generates Frost Sprites that grant your next attack +60 damage and minor frost damage (Max 4 Sprites)
The Silver Sword is yours to keep even after Frostfall ends, but it can only be crafted and enhanced during Frostfall.
Timeless Traditions
Seek out Frostfall gifts scattered throughout the Shattered Isles to unwrap Frostfall coins, banners, flares, and curiosities.
Two beloved Frostfall traditions return to the Hunting Grounds this year. Visit Coldrunner Key and Snowblind Waste to take part in these events. In both, score points by hitting another Slayer with a snowball.
In the Snowforts event, join a team by interacting with a team flag, then throw snowballs to destroy the opposing team's snow fort. When a fort is destroyed, the team with the most points wins.
In the Snowball Fight event, compete in a free-for-all snowball throwing match. When the timer runs out, the Slayer with the most points wins.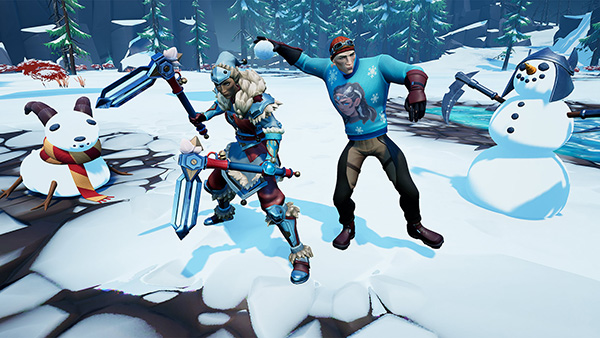 Winter Wonders
The Store
Visit the store to redeem your free Frostfall gift — 24 hours of Slayers Club membership! With this membership, you will receive +100% rewards from challenges, +25% charged aether from escalations, and +20% weapon experience. If you already have an active Slayers Club membership, redeeming this gift will simply add a bonus of 24 hours onto your existing membership.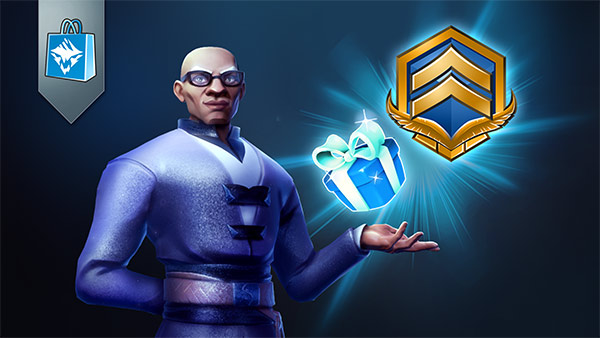 Celebrate Frostfall in style with an abundance of frosty gear cosmetics, curiosities, and other festive items from the store. Be sure to check out the Iron Nikola Bundle, a new Frostfall Starter Kit, warm Frostfall sweater skins, and more.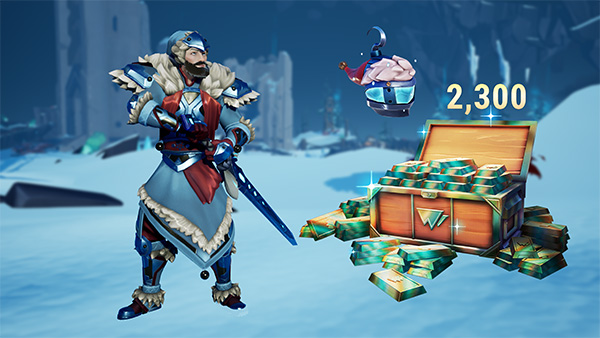 Honest Ozz's Event Store
Frostfall coins are a limited-time currency you can earn and redeem during Frostfall.
Visit Honest Ozz to exchange your Frostfall coins for special items in the Event Store, including a full set of Frostfall weapon skins, various curiosities, and more. This year, you may also redeem your Frostfall coins for bundles of rams, patrol keys, combat merits, bounty tokens, aethersparks, or tonics.
Here's how you can get a chance to earn Frostfall coins during Frostfall:
Find Frostfall gifts throughout the Shattered Isles.
Take part in snowball fights.
Break parts on any Behemoth on any snowy Hunting Grounds map. (Higher-level maps drop more coins. Only 1 drop per Behemoth.)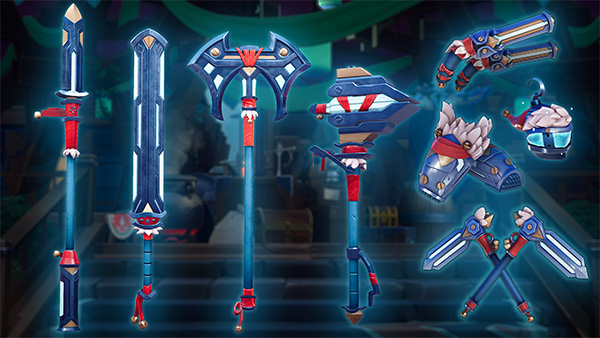 The Frostfall gift, themed store items, and Honest Ozz's Event Store will only be available until January 5, 2023, so be sure to get all of the items you want before time runs out.
Happy Frostfall, Slayers!