Hey Slayers! In our last State of Dauntless update, we talked about Radiant Escalation and our plans to focus on releasing new content in a couple of major patches each season.
State of Dauntless State of Dauntless: What's to Come in…
Today's post is all about the Hunt Pass.
History of the Hunt Pass
When we first added Hunt Passes to Dauntless, we wanted them to be a way for Slayers to step into seasonal cosmetics at a significant discount — just by playing the game and levelling up their pass. Over the last three years, we've made various changes to Hunt Passes to increase their engagement and overall value. Some changes – like offering 100% platinum back upon completion of the Hunt Pass – were very well-received, while others – like moving armour sets out of the free track – were not.
With every change, our goal has always been to make purchasing a Hunt Pass fair and fun for all players.
Sharpening Our Focus
This year, we're taking a look at what's really important for the overall Dauntless experience. As such, we are making more room for awesome new things like Behemoths and game modes, while also giving some older features (like the Friends list) a little love. This means cosmetics will become less of a priority.
Monster Inside (April 14) and Shadow Slayer (May 26) will be the last brand-new Hunt Passes for a while.
The Ritualist set (April 14) and Adamant set (May 26) set will be the last brand-new sets in the Reward Cache for a while.
Back to the Classics
Of course, Slayer fashion is its own kind of end-game. That's why we're bringing back rewards from classic passes you may have missed.
On April 14, classic rewards make a comeback, starting with items from Relics & Ruin.
These classic passes will be released a few at a time, so you will have plenty of chances to get your hands on the cosmetic items you want.
Hit "Choose A Hunt Pass" on the Hunt Pass screen to preview what's available.
On July 7, the Reward Cache will also be filled with items from past seasons.
In the past, we've heard from players that knowing which system rewards can appear in is important for planning ahead. The lists below show which items will return as a Hunt Pass and which ones will return in the Reward Cache.
| Hunt Pass | Reward Cache |
| --- | --- |
| Overgrowth | Way of the Fist |
| Burndown | Haunted Shadows |
| Hidden Blades | Myth & Legend |
| Fortune & Glory | Aetherpunk |
| Zephyr Strike | Rogue Elements |
| Searing Talons | Strange Horizons |
| Relics & Ruin | Alchemy of War |
| Clear Skies | Realm of Ice |
| Cold Front | The Dustwalker Gear Set |
| Time Strike | The Infinity Guard Gear Set |
| Echoes of the Future | The Hinterwilds Tracker Gear Set |
| Wild Thunder | The Ostigaard Enforcer Gear Set |
| Ostigaard Justice | The Treasure Hunter's Gear Set |
| Power Balance | The Infiltrator's Gear Set |
| Warlords of Krolach |   |
| Lawless Skies |   |
| Reach of Radiance |   |
| NEW! Monster Inside |   |
| NEW! Shadow Slayer |   |
| The Secretkeeper Gear Set |   |
| The Krolachi Mystic Gear Set |   |
The Vault tab in the Reward Cache will be removed on July 7.
Yours Forever
Starting April 14, any cosmetic Hunt Pass you purchase is yours to keep forever.
You've purchased it. It's yours. With no expiry. Frankly, we wish we had sorted this out sooner!
Hunt Passes that you haven't yet purchased will still only be available to purchase for a limited time.
Two Types of Hunt Passes
Starting April 14, you'll find two types of Hunt Passes available.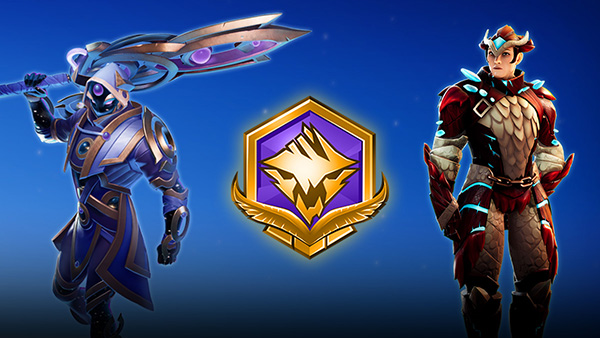 The first type is a cosmetic Hunt Pass. This is the regular pass you're used to – full of gear skins and bonus rewards! It is now condensed to 30 levels so you can quickly get to the goods. There is no free track on these passes, but once you purchase them, you can complete them at your own pace. They're yours forever and will never expire.
The second type is the Slayer's Commission Hunt Pass. This new type of Hunt Pass consists of a whopping 100 levels. It has a free track, and is full of useful rewards like rams, merits, bounty tokens, aethersparks, transmog tokens and — of course — platinum (200 in the free track and 750 in the Elite track). This pass expires at the end of each season, with a new version available every season.
Why Two Types?
When we started planning this Hunt Pass change, we wanted to make sure there was:
something useful for players to earn
something useful for players who already had all of the returning rewards
a platinum-back offer that could be of interest to everyone, even the most veteran Slayers.
Hunt Pass Connoisseur
What if I've already purchased every Hunt Pass ever released?
You are an incredible Slayer, and thank you so much for your support! Don't worry, we're still cooking up brand new Behemoth gear sets and other special pieces for you to unlock and use to perfect your look.
What's Next
Big things! 2022 is shaping up to be a really exciting year for Dauntless. We're hard at work on Radiant Escalation, a brand new Behemoth, and updates to core systems that need some care. Plus, the design team is busy developing a brand new game mode, new special events, and more!
On the community front, our Dauntless concept artist will be hosting an exciting community drawing livestream. Come be part of a future Behemoth idea in real-time and learn more about how we make the big bads. Stay tuned for more information!
As always, feel free to drop us your questions on Twitter, Reddit, and Discord — we love hearing from you!